Free Challah Recipe

Bread Machine Recipe for Sweet Challah Dough
Makes 2 braided Loaves.
Also makes Dinner rolls, Pareve Donuts, Rugelachs, Zeppoles

Place Ingredients in bread maker in this order (all at room temp 75º to 85º)

3/4 cup water (extra teaspoons as needed if dough looks too dry)
Dough should look smooth, feel slightly tacky, and pull from bowl cleanly)
2 large eggs (warm eggs in cup of hot tap water)
1/3 cup oil
2 teaspoons honey
1/4 cup dark brown sugar
1/4 cup white sugar
1 teaspoon salt
4 1/4 cups all-purpose flour or bread flour
2 1/4 teaspoons active dry yeast Directions
1 - Place 75º to 85º water, oil, eggs, and honey, in the bread machine pan
(pre-warmed with hot tap water).
2 - Add salt, sugar, and add flour. Make a well in the flour, add yeast.
3 - Process the ingredients in the dough cycle. Remove immediately when machine beeps.
4 - Divide the dough in half to make 2 challah.
5 - Divide each piece into three sections.
6 - Roll each section into a long strand.
7 - Braid the three strands, pinching ends together.
8 - Place on a parchment-lined or lightly greased baking sheet.
9 - Repeat with the remaining dough, making the second challah.
10 - Cover with towel at 75º to 85º for 60 minutes, or until it doesn't spring back if pressed.
11 - Preheat oven 325 degrees
12 - Bake for 15 to 20 minutes
13 - Cool on a wire rack.

Suggestion:
Challah Knife
by Rada from J. Mark




R112 Serrated Bread Knife 14" long - 9½" blade $9.19

Dinner Rolls: Cut dough into 3rds and make 2 small challot plus 8 knots for dinner rolls-

Optional: For deep color and shine brush with beaten egg just before baking.
Sprinkle with the sesame seeds, poppy seeds, or a combination of both.
____________________________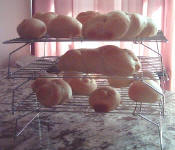 Let rise one hour.)

For pareve ruggalah / rugelach, roll the 10 dough pieces 1/8" thin, sprinkle with raisins and cinnamon sugar, roll up and slice into 1" pieces. Let rise one hour. Coat with beaten egg and sugar and bake. Or lay cut rounds touching in greased round 9" cake pan for cinnamon buns. Drizzle with a confectioner's sugar glaze.

Pareve doughnuts, or zeppoles.
Roll to 1/2" thick, Cut with doughnut cutter. For Zeppoles make
strands and twist into knots. Let rise one hour.
Drop in 350º vegetable oil about 2.5" deep or deeper. Turn over
after 2 minutes. When cool, shake in a bag with confectioners
sugar or cinnamon sugar or coat doughnuts with icing.